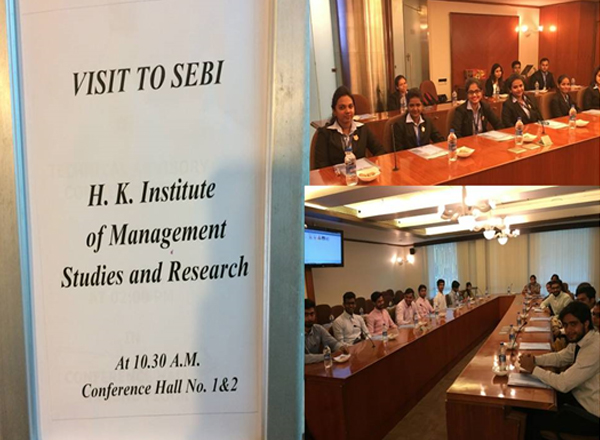 An enriching visit to Securities and Exchange Board of India's (SEBI) Corporate Office was organized for MBA (MMS/PGDM) Students from H.K. Institute of Management Studies & Research on 27th of September, 2016. The objective of the visit was to provide an orientation to the students on the role and functions of SEBI in regulating the Capital Market, fostering investor protection on various financial products, functioning of stock market & building awareness towards savings.
The visit was organized by Prof.Taiseen Patankar & Prof.Amit Kamkhalia under the guidance of Prof. T.G. Roy, Director HKIMSR, Mumbai, where 50+ students participated in the intellectual enhancement process on the apex regulator's functioning.
Under the guidance of two faculty members, 55 aspiring managers met the SEBI team at their office in the first half of the day. An interactive session was conducted by Investor Awareness Cell of SEBI, addressed by Mrs. Amrita Shukla, Asst.Manager, Investor Awareness Division – OIAE, SEBI, in their conference room.
The session covered several aspects relating to financial planning while dwelling on the role of SEBI in monitoring all the market participants. The workshop was followed by a Q&A session. The session concluded with closing remarks by Mrs. Amrita Shukla, Asst.Manager, Investor Awareness Division – OIAE, Securities and Exchange Board of India (SEBI) on the importance of financial literacy and awareness for students of business management. Various laws and operations of different markets were also discussed during the interaction.
Sushmita Thakur, student of MMS Batch 2015-2017 said, 'It  was an extremely enriching experience to us and the interesting key take away from the session was several initiatives undertaken by SEBI to safeguard the interest of retail investors." Hiral Mistry, PGDM student (2015-2017) adds, "It is good to know how SEBI ensures managements' credibility before permitting any IPO in the market."
The students expressed enthralling response to the effort made by faculty team in providing exposure to the world of Capital Market Regulations in India.
Social Share