Seventeen Samaritans from H.K. Institute of Management Studies & Research (HKIMSR, Oshiwara, Mumbai) extended their managing skills and voluntary support in organising two days Maharashtra State level Conclave – Apang Sahitye and Kala Sammelan, 2014 (Literature and Art Conclave for Differently Abled, 2014) organised by MSHFDC (Maharashtra State Handicapped Finance Development Corporation) in association with Kalyan-Dombivali Municipal Corporation at Principal P.K. Atre Auditorium at Kalyan on 21st and 22nd August 2014.
On behalf of the team, Prajesh Podikalam, MMS Student at HKIMSR, expresses emotionally, "It was a euneirophrenia for seventeen of us who were engaged in organising literary conclave for differently-abled people. Once in a lifetime opportunity for us to discover a new world of differently-abled people full of courage and sparingly deterred by challenges in their life."
"Amazing but true, they seem to be enjoying their life with glass being half-filled, rather than crying over glass being half-spilled," adds Nilesh Mudaliar, another Samaritan at HKIMSR.
Our students extended voluntary support starting from disseminating event information  to NGOs within Mumbai city to managing end-to-end event on the D-day. The conclave had differently-abled talents converging from all over Maharashtra, inspite of their hardships and trouble they had to undergo during transitions. The two-day conclave included discussions on policies pertaining to welfare of specially-abled people in the Maharashtra State, literary and cultural presentations by specially-abled talents and a grand musical event by noted music director and singer, Rabindra Jain, who himself is an epitome of success without being challenged by his physical limitations.
"Their courage and strong determination have given our souls – unlimited strength to beat the world and take leaping strides in our lives. Lesson Learnt: No matter how many hardships come to one's life, we just have to jump over and cross the hurdles without complaining," mentions Parth Mehta, MMS student who coordinated with the team.
"The blessings that we received are much more than any other gift one can get in his or her life. We are touched at the bottom of our heart and pledge to engage ourselves in more such opportunities in the near future," promises Arjun Khatig, MMS student at HKIMSR.
Suhas Kale, Managing Director, MSHFDC extended his gratitude to the students and  institution by extending certificates during the event and handing memento as a token of appreciation.
Kudos to the seventeen Samaritans (MMS Students) at HKIMSR!
Parth Mehta, Nilesh Mudaliar, Arjun Khatig, Anil Prajapati, Ahmed Khan, Mubin Khan, Vinod Yadav, Rakesh Waghadia, Sohel Khan, Nilesh Shejwal, Vinay Sharma, Vivek Salvi, Prajesh Podikalam, Umakant Pandey and Praveen Koree.
The opportunity was coordinated by Prof. T.G. Roy, Founder, Centre of Innovations at HK Campus and Pawan Desmukh, HKIMSR alumni. Prof. Roy is planning to engage HKIMSR students in a live project under IIEC (Innovation, Incubation and Entrepreneurship Centre) with MSHFDC to train, support and scale-up entrepreneurial ventures of specially–abled people. The project will be accomplished with support from experts at C-R-I-S-E-S: Centre for Research and Innovation in Socio-Economic Studies, Mumbai.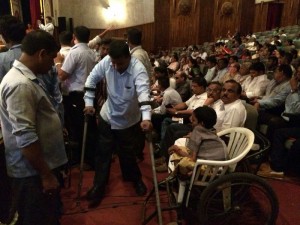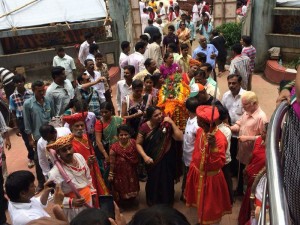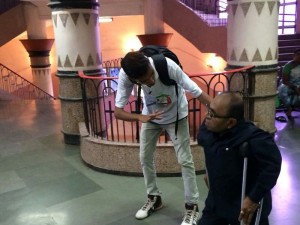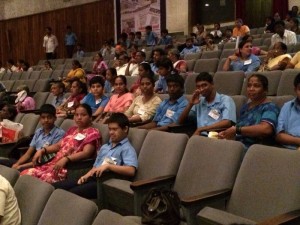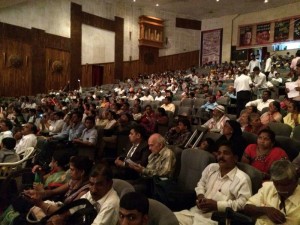 Social Share